Welcome to PETTRANS LTD.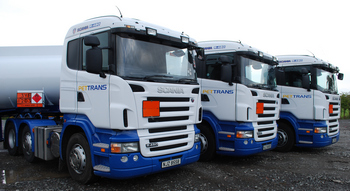 Pettrans Limited was established in late 1980s to service the Downstream Sector of the Fuel Industry and to complement the Major Oil companies, becoming one of Ireland's premier companies for the transportation of Petroleum, Chemicals and LPG.
Pettrans Limited operates a modern fleet of high specification tankers, equipped with the latest technology for the purpose of attaining maximum efficiency in our delivery model.
We are located on the M1 corridor near Lisburn, ensuring a rapid response to market fluctuations out of the Belfast and Dublin Terminals as well as the new L.S.S. facility at Lisahally in the Northwest.
Pettrans Limited is committed to providing a quality service to new and existing customers. We welcome the opportunity to discuss your transportation requirements and tailor our service to meet these.
Contact: 028 9262 1251